Dear colleagues,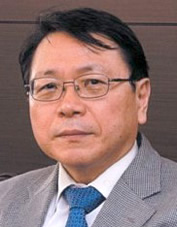 It is great honor and pleasure for me to introduce myself.
I am professor and chairman of the Department of Gastroenterology and Hepatology at Kansai Medical University. I have been assigned to be the 9th president of the Japan Pancreas Society (JPS) in August 2016 as successor to Prof. Tooru Shimosegawa, currently Dean of the Department of Medicine at Tohoku University.
Founded in 1969, JPS now has a half century of history and about 3,700 official members as of 2016. As the biggest pancreatic society in the world, the JPS has been leading basic and clinical research in the field of pancreatology such as pancreatic tumors (pancreatic cancer, IPMN, pNET, and so on), or pancreatitis (acute and chronic pancreatitis, autoimmune pancreatitis, and so on).
Although it is a domestic scientific society, the JPS has been collaborating with other societies in the world such as the American Pancreas Association (APA) and the International Association of Pancreatology (IAP). In fact, the JPS and APA have become sister societies in August 2016 at the 47th annual meeting of JPS held in Sendai. This partnership was intended to encourage young investigators to exchange scientific experiences and opinions in the field of pancreatology and strengthen friendships between members.
I am convinced that the JPS contributes to the further development of pancreatology in the world.
Sincerely
Kazuichi Okazaki M.D., Ph.D.
The President of Japan Pancreas Society
The Chairman and Professor,
Division of Gastroenterology and Hepatology
Kansai Medical University
Osaka, Japan